Peter Gloudemans talked this morning with Robin Frijns, test and reservedriver of the Caterham F1. Robin drove Wednesday in the new Caterham CT05 and is in Bahrain. In Jerez the Dutchman drove the first laps in the new CT05.
Robin how is it going in Bahrain?
Good, it are busy days. We did some good runnings here and made some kilometers. The team is busy preparing the car now for Kamui Kobayashi. It isn't a good day until now, until the lunch we only drove 4 laps.
Okay, the first few days how went these?
It is okay, the first day when I drove we had some minor issues. But those things also can cost quite a lot of time sometimes. Our plan is too drive as much as possible to learn the car. Also it is important for Renault to make mileage to develop the new engine.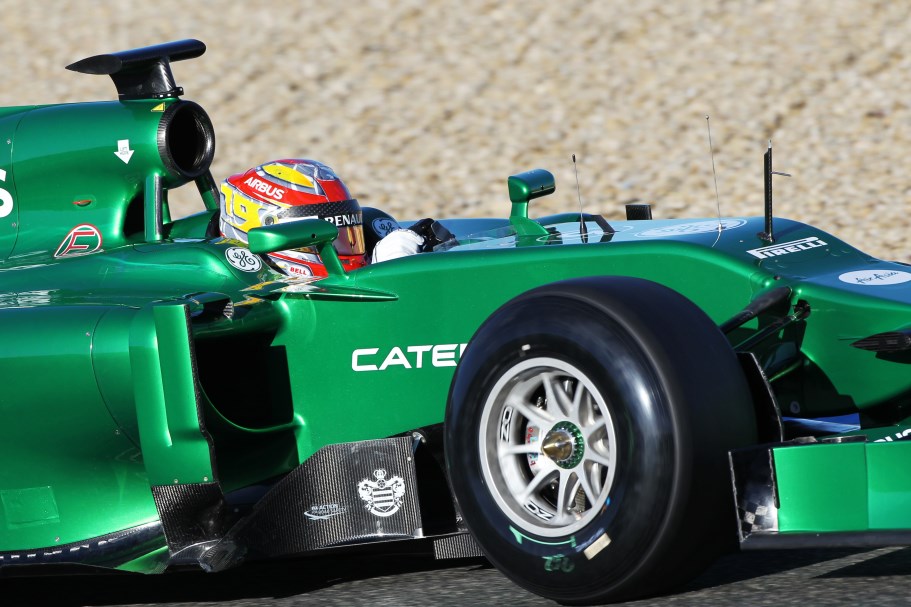 I drove 68 laps the first day. That isn't bad. It's already 10x times better than in Jerez. We made a stap forward, that is the most important thing. The second day Kobayashi drove 66 laps, en the third day Ericcson drove 98 laps. So we made quite a lot of mileage. Only today is not going as we wanted.
Are the problems who are hampering your test days are also related to the Renault-engine, likes Red and Lotus?
More or less yes. Of course we also have some issues because we have a completely new chassis. We didn't drive a lot in Jerez so there are a lot of things to work on. But the major of the problems are related to the engine.
You drove the first day, how did it go?
It went okay, of course we had some minor issues. We didn't do a very quick run. We are working on the car, it was not the moment to drive on full speed. There is a lot of work to be done. It's hard to say where we are standing now. We shall see in Australia.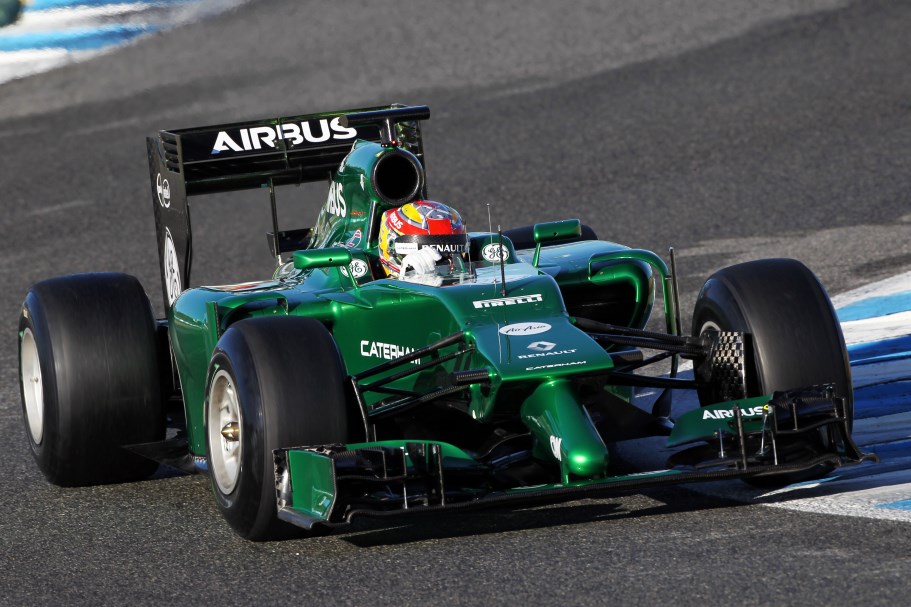 In Jerez you also drove a few laps, can you feel the different in the car now?
My test in Jerez was a drama. We had a lot of issues and I was only able to run a few laps. My speed on the straights wasn't higher than 200 kilometers per hour there. I had to go to the pits a lot of times or had stop on the track because of the problems. These issues are solved now but we still had some issues with the engine, especially with the reliability. The electronics and the engine managent systems are still not how we want them to be.
Can you give an indication on where you are standing now?
There is still so much to do. So that is very difficult. But its obvious that the teams with Mercedes engines are further then us at the moment. We shall see where we stay in Australia. We are working really hard, I hope we can score points this year. Reliability will be important in Australia, until now every team has had its issues in Jerez in Bahrain. The finish is important in Australia, it is possible that at Albert Park you only need to finish te score some points.
You didn't drive a few months. Is it difficult to get in the car again then?
De last time when I drove was in august last year when I drove in GP2. So that's a time ago. Of course you have to adjust a bit again but I didn't had problems it. Your body always have to adjust a bit again when you didn't drive for a long time. But that's always the case after the winter, it's all okay for me. I didn't had any problems with it.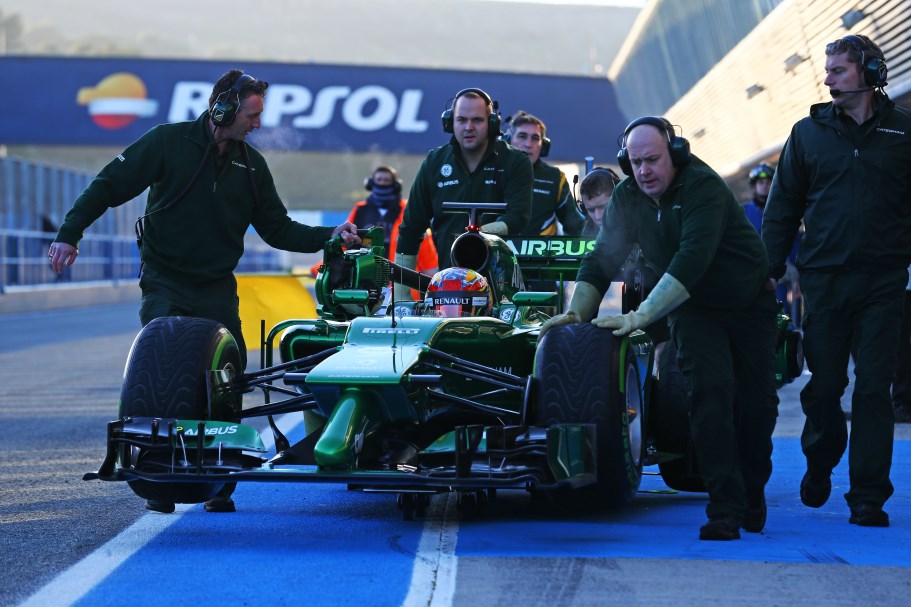 I found my rhythm quickly and the team was satisfied with my job and feedback and that is the most important thing.
So the team is satisfied with your work?
Yes, I do what I can to help the team solving the problems as quick as possible. The team is satisfied with the way I drove and with my feedback. That is my job and the most important thing.
Are there any more test planned for you?
I don't think I will drive next week. Things always can be changed but I don't think I will drive. During the year I will drive some sessions on Friday.
You already know during which Grand-Prix you will drive on Friday?
I will be with the team in Australia, but not in Malaisya. In Australia I don't expect to drive. It's the first race and we will have some updats their. Ericcson is a rookie and needs every lap to gain experience. And also Kobayashi wants to drive with the new package as much as possible. So I don't know which Grand-Prix I will drive the first free practice sessions. It depends on the progress of team.
What will be your role when you will not drive in Australia?
I will be with the team and attend all meeting. Im reservedriver so it's important to stay up to date within the team. You never know what happends, when I need to drive and I need to be prepared. I train hard so that I will be ready for it.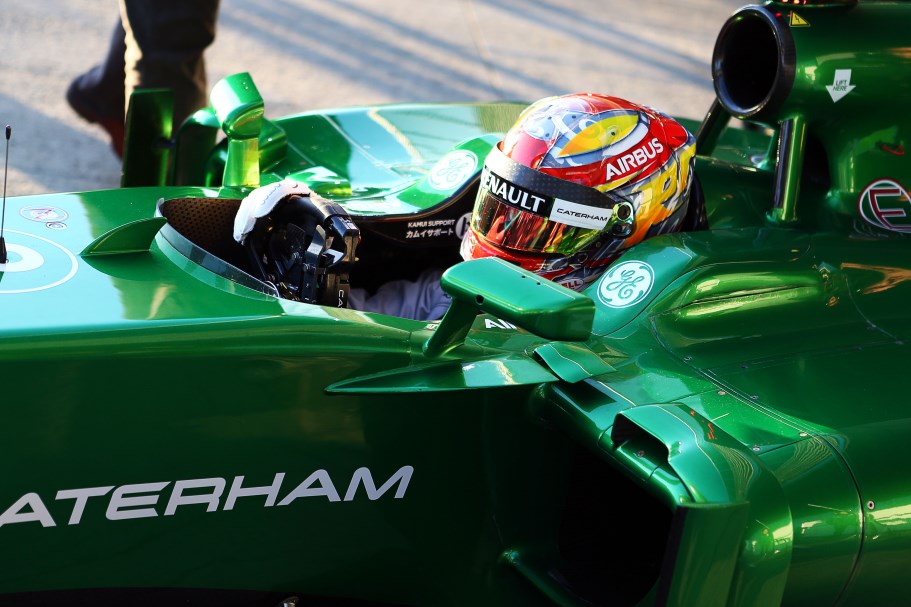 How is your relation with Ericcson and Kobayashi?
Good, it are nice guys. Kobayashi has Formule 1-experience. I can see that. Ericcson and I are both rookies and we need to learn both. We are working well together. We still have a lot to do together during these day.
Tony Fernandes said at the driver presentation that he thoughed about putting you in the car as a Grand-Prix-driver. How close was a race-seat at Caterham?
It's hard to say but it is nice that Tony Fernandes says something like that. Of course we worked hard this winter to get a seat, that is not a secret. But I can't say I was very close or for example that it was 50-50%. I simply can't measure it. A lot of things are involved. But of course it is nice that Caterham is happy with me.
Last year after your GP2-carreer with Hilmer you were without a drive for a time. How did you get the drive with Caterham and how happy are you with the team?
First of all I changed my management. First I had Werner Heinz as manager and now I work with Timo Gans. Timo really worked hard for me. He talked with different teams and so we did with Caterham. I tested with Caterham in the simulator and their I was very quick, the team was happy with my performance there. That's how things went, the team wanted me. They also looked to my CV and of course they know me from GP2, World Series by Renault, and Formula Renault.
I feel myself very good within the team. I'm part of the family. And Caterham gave me the oppurtinity to drive in Jerez, I had the chance to drive here in Bahrain, that says a lot. Caterham believes in me.
How is the co-operation with Timo Gans going?
Great! I'm very happy with his work.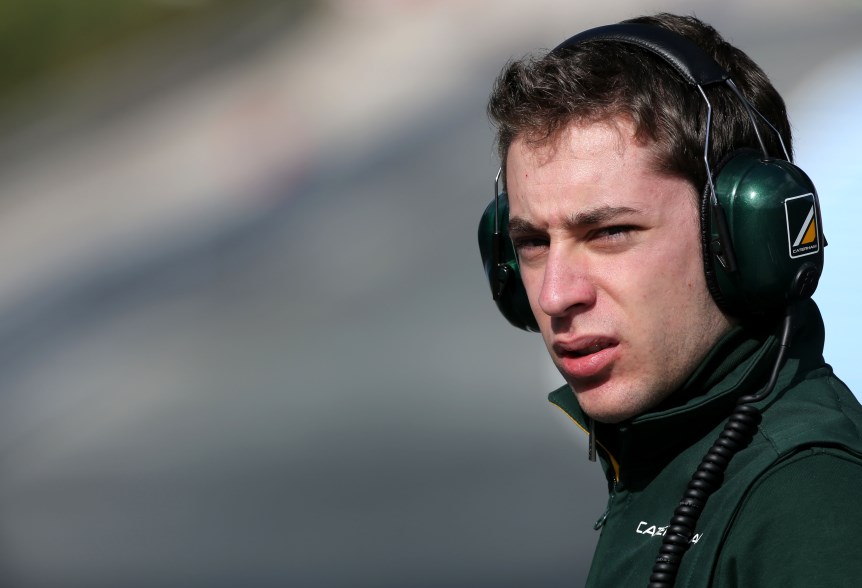 Why you changed your management?
changed my management because there was no progression anymore. As everybody knows at some point my career was at dead end. Timo Gans worked hard to get me at Caterham. Timo wors together with Just Sports Marketing. Timo does the management, Just Sport Marketing the commercial part. Just Sports Marketing is working hard to find sponsor for me. It's not easy but we try our best. Hopefully soon we have some good news from the sponsorship-part.
In the media Michiel Mol is also named as one of your backers. How about this?
Michiel Mol is involded with Just Sports Marketing, it is a sort of co-operation. Mol also tries to help my carreer with this part.
How about the co-operation with Caterham?
Caterham is one big family and I feel part of them. They are very serious with me, they really give me a chance. I feel the confidence and that is great.
You choose to drive Formula 1 only. You will not combine it with GP2. Why is that?
I drive Formula 1 now and I want to focus on that. That what the team asks me to do. Of course there is a possibility to combine it with GP2. But in GP2 I never felt comfortable. In GP2 you really have to be carefull with tyres, otherwise you will ruin then. Also you need luck. In Formula 1 of course you also have look at your tyres but you have pitstops. That is different. In the World Series the quickest driver wins, there its pure about racing speed.
As you said you drove in the Caterham-simulator. Are you also involved in that this season?
We have a new car now so it's very important to adjust the simulator to that. The new car is different than last year's. I'm involved in that. How better the simulator how better we can do our simulating test. I will drive in the simulator from time to time during the season and before Grand-Prix weekends. My tasks is to help the team as much as possible with their preparation work before a Grand-Prix.
Will you stay in Bahrain de forthcoming days?
I will stay here with the team and attend all sessions. I'm involved in everything and this helps my learning process. I learn a lot and that is really good for me!
Robin thanks for your time and hopefully you will be testing again quickly!