Dreams are meant to be chased. In February I was for a short trip in Dubai and I decided to visit Abu Dhabi.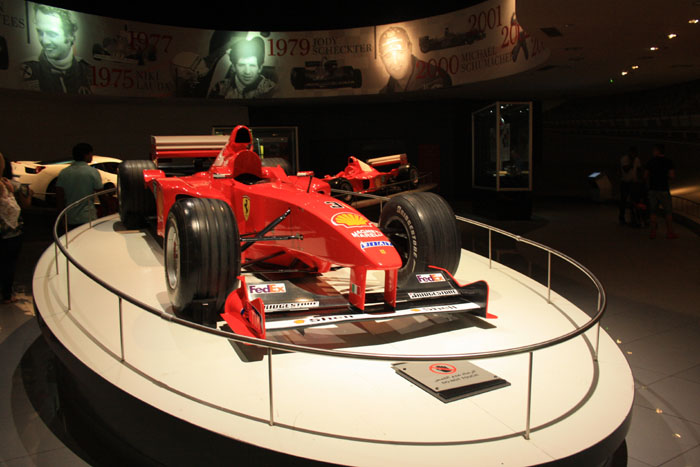 Of course visiting Ferrari World and Yas Marina-circuit where on my short list. It where things on my "bucket list" . Ferrari World is located just outside Abu Dhabi on an artificial island. On this island Yas Marina circuit is also located.
In the past this was all desert, that is hard to imagine now. In a few years there has been a true paradise for Formula 1-fans build here. Ferrari World is thema park all about Ferrari. And Yas Marina circuit is the most luxury and most expensive circuit on the Formula 1-calendar.
The first thing what strikes is me what an enormous complex Ferrari is. The whole park is located in a building which has the form of Ferrari's logo, the prancing horse. The whole building is air-conditioned (which is not unimportant in Abu Dhabi), so the climate in the park is excellent.
The first things what I did when I entered Ferrari World was walking to the Forza Rosso, the fastest roller coaster in the world. There are no limits in the Emirates, everything is quicker, bigger, and more luxurious. It is not crowded in the park, the queuing rows before attractions are no longer than 20 minutes.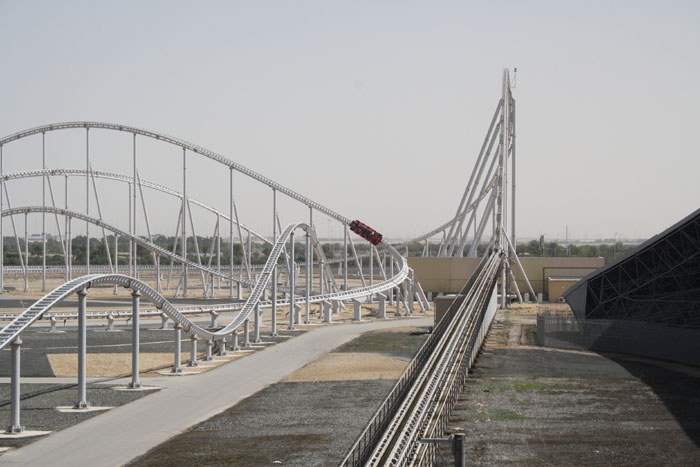 What helps is that I visit the park on a Tuesday and in low season. In high season it can be more crowded, especially on Saturdays. The Forza Rosso simulates the acceleration of a Formula 1-car. The roller coaster accelerates in 2 seconds to 100 kilometers an hour to reach a top speed of 240 kilometers per hour (!). Within this ride there are also G-forces of 1,7 G. The numbers are imposing and so is the ride. For safety I'm getting a safety glasses for the ride, something which is necessary!
The feeling of acceleration is tremendous! I'm a fan of roller coaster but the Forza Rosso is the most impressive roller coaster where I took a ride in. besides the Forza Rosso there are about 20 other attractions which can be visited in the park. On the moment of my visit a few of them where still under construction.
Ferrari World is opened in 2010 but construction isn't finished yet. You don't notice much about this in the park. Beside the Forza Rosso there are more attractions which makes Formula 1-fans happy. So is their the possibility to drive in go-karts with Ferrari F1 sounds, there are also shows for children, and spectacular actions shows for the whole family. I wanted to see all attractions, for this a whole day is needed. There is also a small museum with Ferrari F1 cars.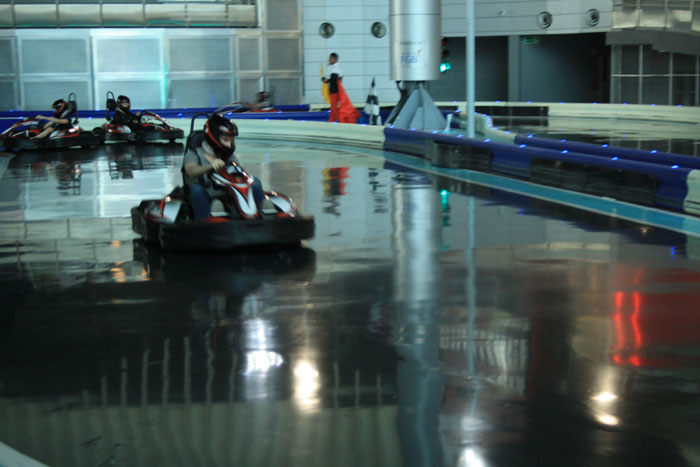 All the Ferrari's in which Michael Schumacher won five world championships are displayed. But other greats Ferrari legends like Alberto Ascari and Niki Lauda are also not forgotten. In the park are also "real" Italian restaurants where it is possible to order an Italian pizza or past. The funny fact is the restaurants are real copies from restaurants in Maranello, Ferrari's hometown in Italy.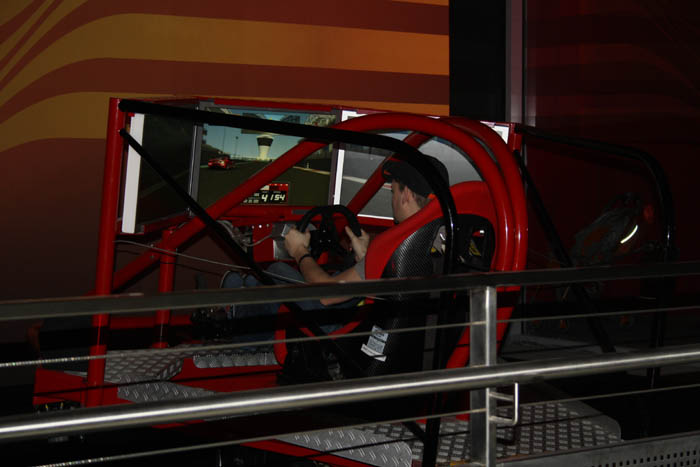 After the visit I go with my rent car to Yas Marina circuit. Yas Marina circuit is just a few hundred meters away from Ferrari World.
What a beautiful circuit! The first things I notice is that the circuit is compact. As a fan on the stands it almost possible to oversee the whole circuit.
I also decide to visit the Yas Vicery hotel, the famous hotel where the Formula 1-cars are driving through when there is a Grand-Prix. It is tremendous to see the hotel, on the upper floor there is a big swimming pool and a lounge bar.
For the richer people under us it is possible to drink a beer in the swimming pool and see the Formula 1 cars driving underneath. After all it was a great visit for me. For Formula 1-fans Ferrari World and Yas Marina in Abu Dhabi are real highlights!
When you want to see everything you need a full day for it. And Ferrari World is not only nice for Formula 1 or Ferrari-fans but for the whole family. It is a nice day out. There is fun for everybody in Ferrari World, is it not the roller coast than it are the actions shows. At least I had a great day in Abu Dhabi where I had enjoyed myself a lot!
Peter Gloudemans